Rex Armstrong
1968
Name in High School: Rex Armstrong
Favorite High School Memories:
I appreciate the opportunity to attend the 50th reunion celebration of the Wilson class of 1968 even though I did not attend Wilson.  I attended Robert Gray from 4th through 8th grade but ended up attending high school at Phillips Academy in Andover, Massachusetts.  That happened because my best friend at Robert Gray, Andy Wheeler, decided to apply to Andover, which is where the future spouses of his older sisters, Molly and Martha Wheeler, had attended high school.  I decided to apply, too, so that Andy and I could attend Andover together.  As it turned out, I got admitted but Andy did not.  By then, I had come to think that Andover would be interesting, so, with the support of my parents, I did.  I attended the 50th reunion of my Andover class in June.  That occasion led me to inquire about the plans for the Wilson reunion of the class of 68.  Fortunately, the reunions did not conflict!  I look forward to visiting with many of my Robert Gray classmates.  I will include in the 2018 section some information about my life since high school, which mostly reproduces the information that I shared with my Andover classmates in the booklet that they published for our 50th reunion.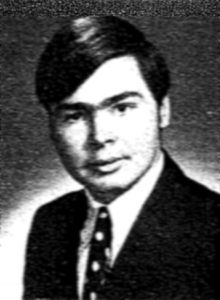 2018
Spouse/Partner: Leslie Roberts
Children: Iain, Morgan, Kyle, Penn, Keir, Aeron, Jestin, Shannon, Lauren, Dylan, Ewan, Greer, Aedan, and Drew Armstrong
Grandchildren: None (so far)
Occupation: Judge, Oregon Court of Appeals
Favorite Pastimes: Keeping track of our kids; visiting China.
Highlights of My Life Since High School:
Here is material that I posted for my Andover reunion:
There are aspects of my personality that seem to me to be intrinsic and durable.  One is a conviction that I can understand and make sense of most things.  Another is an inclination against accepting received wisdom and authority.  A third is a reluctance to accept limits.  All of those aspects of my personality are abetted by an optimistic outlook.
My announcement to an 8th-grade math class that I did not believe in God reflects those characteristics.  I cannot recall my thoughts at the time, but I assume that my statement reflected my view that the ideas and information that had led others to accept that belief were unpersuasive to me.  I spent time at Andover sorting out the consequences of my understanding of our shared existence, which I ultimately came to capture in an aphorism:  Life is meaningless; how you live your life matters.  I also came to accept the importance of paradox in making sense of our existence.
An undergraduate class in American Constitutional Law at Penn proved to have a profound effect on me, because it ultimately led me to attend law school at the University of Oregon to study with Hans Linde, whose commitment to an absolutist view of the First Amendment was congenial to me.  Hans was appointed to the Oregon Supreme Court during my third year in law school, which led me to serve as his law clerk on graduation.  I cannot begin to describe the extent to which my professional and personal life have been affected by my relationship with Hans, which endures to this day.
I became active with the Oregon ACLU in law school and continued my work with it as a Portland lawyer.  Among other things, that work led me to meet my future wife, Leslie Roberts, who was a volunteer lawyer with the Oregon ACLU.  It also led me to receive a 1988 Hugh M. Hefner First Amendment Award from the Playboy Foundation for my work promoting the development of Oregon's distinctive (and absolutist) approach to its state constitutional guarantee of free expression.
As Leslie and I became a couple, Leslie made it clear to me that a condition of our remaining a couple would be a commitment by me to become a parent.  I resisted making that commitment because I had been generally opposed to the idea of becoming a parent, but I came to believe that Leslie would be a wonderful parent, and I wanted to share that experience with her.
After we had two children join our family by birth, Leslie came to believe that we should add another child to our family, and do it by adoption.  I resisted that idea for several years, thinking that our family was complete, but I ultimately came to share her view that parenting children was the most satisfying and worthwhile thing that we did, so we should extend our ability to do that.  As things turned out, we went to China in 1996 to adopt a daughter, which proved to be a wonderful experience and to make China a significant focus of our lives.  It would require a book to describe the process that led us to adopt eleven more children in China between 1996 and 2012, but, to summarize, we did that.  As we repeatedly told the Chinese government when we asked to adopt another child (or two), the addition of our children from China has enriched our lives beyond measure.  Nonetheless, we have reached (or exceeded) our limit for children.
I hope to devote time in retirement to (vainly) attempting to affect the Chinese legal and judicial systems, but neither Leslie nor I expect to retire from our judicial positions until we reach the mandatory retirement age for Oregon judges of 75, so my work in China will have to wait.
I'll close with a paradox:  I persist in resisting the effect of authority and limits on my life, yet my work as an appellate judge requires me to accept and contribute to the creation of authority!
I will add two addenda to my Andover statement.  First, I spent the summer between high school and college working as a choker setter for Weyerhaeuser near Raymond, Washington.  The night that I left that job at the end of the summer and returned home to Portland, some people burglarized two jewelry stores in Raymond and sought to frame me for them by having someone dress like me and wander around town that night.  After investigating the crime, the Raymond Police Chief drove to the UofO to arrest me for the burglaries.  I was able to persuade him not to do that, based on my representation to him that my parents had driven to Raymond to help me move home, including to help me tow and repair the car that I had driven there, and we had been stopped by a Washington State Trooper on our way home, which should definitively establish that I had not remained in town that night to burglarize the stores.  He said that he would investigate my assertions and would expect to meet me at the Eugene police station the next day.  My parents drove to Eugene for the meeting, where the police chief confirmed the record of the stop by the trooper and that I was no longer a suspect.  As it turned out, they  never prosecuted anyone for the crimes.  I am convinced that, had I not had the ironclad alibi that I had, that is, had I simply driven home alone, I could well have been convicted of the burglaries by a local jury that could decide to believe the purported eyewitnesses to my presence in town that night over testimony by me and my parents that I had returned home.  Obviously, had I been convicted, my life would have followed a different course, and I almost certainly would not now be a judge!
Second, with the release of the documentary about the Rajneesh experience in Oregon, Wild Wild Country (only two episodes of which I have managed to watch), I thought to share that I was the last city attorney for the City of Rajneeshpuram.  I was involved with aspects of the Rajneesh phenomenon in my role as president of the Oregon ACLU affiliate from 1984 to 1987.  When the Rajneesh commune collapsed, the city hired me as its city attorney to address various pending matters, including the appeal of the federal trial court decision that held that the creation of the city had violated the First Amendment's Establishment Clause.  I ultimately was able to settle the case with entry of a stipulated judgment upholding the creation of the city.  I will give a talk at the UofO Law School the Friday before the reunion that will examine some of the legal issues surrounding the creation of Rajneeshpuram, which should be fun!
---