Billie Jean Hemstreet Stevens
1968
Name in High School: Billie Jean Hemstreet
Favorite High School Memories: 
Drama and musical productions
Favorite Teachers:
Mr Murray
Mr Johnson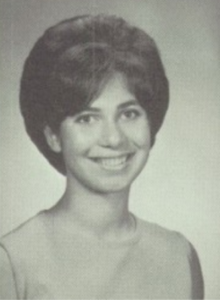 2018
Name: Billie Jean Stevens
Spouse/Partner: Ron Stevens
Children: Doug, Lori, Brian, Staci, Christi.
Grandchildren: Finn, Griffen, Thad, Ryan, Megan, Jake, Enzo, Julianna, Aviah, Margaux Jean, Amiri.
Occupation: Wife, Mother, Grandmother, Bible Study leader.  Retired Mary Kay Director.
Favorite Pastimes: Spending time with family.
Church activities.
Traveling,
Charity walks
Crafts.
Highlights of My Life Since High School: 
Whew! 50 years!  Hard to believe it's been that long since formals in the cafeteria, dancing and singing on the auditorium stage, and watching Jeff DeGangi play in his rock band.
Thank you Karl and the committee for putting this all together.  It will be great to see everyone again.
Prior to my 41 years of marriage to my husband Ron, I earned  my way to Europe with the Foreign Study League and got an associate degree in nursing.
Since retirement, my husband and I enjoy spending time with our five married children and eleven grandchildren.  Yes!  There are 23 of us !!!
We enjoy traveling.  Our greatest adventure was taking our own boat through the Panama Canal.
We reside out of the state in Nevada, so each time I come to the Portland area I look into faces in the crowd wondering if I may have walked the halls of Wilson 50 years ago with any of them.
I look forward to greeting you at the entrance and assisting you with your name  tag.  See you there!
---