Marilyn Joyce Hirte
1968
Name in High School: Marilyn Joyce Hirte
Favorite High School Memories:
Yearbook!  It was an incredible experience to be on the staff for three years.  I learned so much from each of my positions.
Anything to do with ART was a plus.
Favorite Teachers:
Art teachers and Mr. Conlon (yearbook advisor)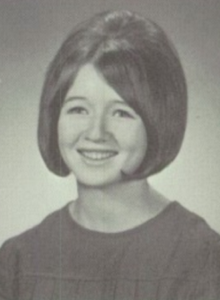 2018
Name: Marilyn Joyce
Spouse/Partner: Flying solo for a long time
Children: Joel 37 years old married to Laurel.  They live in Brooklyn, New York.  He is the editor of Bloomberg Businessweek.
Alex 33 years old and his partner Libbey.  They live in Austin, Texas.  He is the A-GM at El Monumento.
Grandchildren: Henry Clay Pinson Weber 3 years old and the 'boss' of the Brooklyn household.
Occupation: Retired High School Art Teacher
Hillsboro School District
I have acreage and operate a small tree farm playing Santa in November and December.
Since retirement three years ago, I have been expanding my art studio practice.  This past winter I was awarded a residency at PLAYA Summer Lake and received  a stipend  from the Ford Family Foundation.  Yes, to late bloomers!  You can find me on Instagram  marilynjoyceartist and my website marilynjoyceartist.com.
Favorite Pastimes: My kiddos and sweet grandson are tops on my list.
Being in the great out-of-doors is a must.  I love to hike, snowshoe, garden and learn about the geology of Oregon.
I am blessed with amazing friends and sharing time with them is a gift.
It seems like I am getting to know JetBlue and Alaska airlines very well as I go between Texas and New York.  Out of country trips planned for next year.
Highlights of My Life Since High School:
Grateful that I have been blessed with good health, loving family and dear, dear friends.  Looking forward to more adventures.
---