Jon Huggins
1968
Name in High School: Jon Huggins
Favorite High School Memories:
I would have to say sports since that pretty much kept me out of trouble. While I would not consider myself anti-social in HS I was certainly awkward and not very social. I remember many people from those years, most fondly, but I never felt I got to know anyone as a close friend. Of course, that was no ones' fault but mine. I do want to thank Karl for tracking me down and making me aware of the 50th and I hope to be able to attend but right now it appears I will be in Texas then.
Favorite Teachers:
Not a lot of strong memories of teachers but I recall enjoying some of the science teachers. Mr. Meinicke and Mr. Hohman come to mind.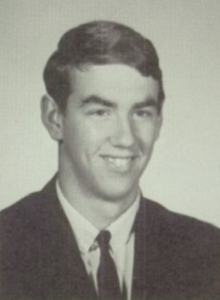 2018
Spouse/Partner: Janell (Biglin) Huggins
Children: Son Casey born in 1982 and daughter Caitlin in 1984
Grandchildren: Granddaughter Sylvie now 3.
Occupation: In oil and gas exploration working as a geophysicist.  Started with Texaco after college (Oregon State-Geology) then spent 24 years with Mitchell Energy a small independent in The Woodlands, Texas.  Since 2002 consult/contract with various companies but with product prices so low pretty much semi retired for the last several years. Rather enjoy the slow down of work and don't plan on ever working full time again.
Favorite Pastimes: I have always enjoyed photography and being outdoors. Lousy knees from sports, and to be honest age, limits the hiking these days but since coming back to Portland in 2008 for parts of each year I have done what I refer to as "rediscover" driving trips around Oregon and Washington. Photos of those explorations are on a Pinterest page I put together for friends if anyone is interested.
Highlights of My Life Since High School:
I have been very lucky through life both personally and professionally. Two extraordinary, and now successful, children and a long and happy marriage have to be the main highlights. The first grandchild is a delight and always fun to be around. In work I was fortunate to have had a small part in the beginning of what has become known in the oil and gas industry as the shale revolution.
---