Brenda Goudge Graham
1968
Name in High School: Brenda Goudge
Favorite High School Memories:
Meeting the love of my life……attending varsity ball games…..Meeting new friends…….aattending all the social activities ( as well as "going to non school gatherings!!")……..preparing for college
Favorite Teachers:
Mrs. Borden, Mrs. Windes, Mr. Horton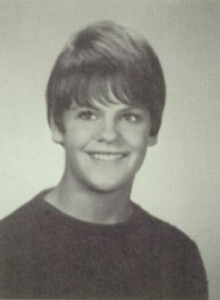 2018
Name: Brenda Goudge Graham
Spouse/Partner: Steve Graham
Children: Brian, Jay, Eric and Scott
Grandchildren: Pagan, Heidi, Jimmy, and Spencer
Great Grandchildren: Rogue, Flora and Daniel
Occupation: Retired LPN
Favorite Pastimes: Spending time at our place on the North Fork of the Santiam River…..doing things with the grandkids……traveling, spending time at the Oregon Coast…..travel to "New places"……reading my kindle to relax……..family time (#1)……biking (slowing down now!!)…….Spending time with all my fur babies!!
Highlights of My Life Since High School:
My family always comes first!!
Marrying my high school sweetheart many yrs ago!!
I kicked  cancer's butt and remain in remission!!
Doing volunteer work as a counselor for women's crisis line…….a very rewarding job as a nurse helping those who needed health and compassion!
All my labradors we have raised!!…Love them all!!
I have truly been blessed with the good life!!
---