Bruce Myers
1968
Name in High School: Bruce Myers
Favorite High School Memories:
Competing on the Forensics Team
Favorite Teachers:
Mr. George Jones, who taught lessons in school and in life.
Mr. Olaf Johnson, who wanted us to raise our "lunch hook" to get out of class early when there was a basketball game.
Mr. Curtis Guthrie, chemistry
Mr. Donald Pacheco: told us about his first hand experience in Pearl Harbor on December 7, 1941.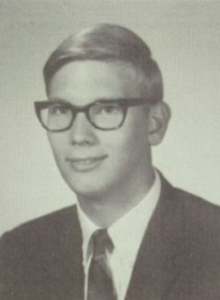 2018
Spouse/Partner: Dyann Myers
Children: Ivy Myers, 13
Stepchildren:
Dawnelle Breum, 41
David Droz, 36
Grandchildren: Mikey Breum, 9
Jacob Breum, 14
Alyssa Breum, 15
Stormy Breum, 16
Tyler Breum, 17
Madison Breum, 19
Maverick Breum, 24
Annabelle Droz, 9
Brayden Droz, 6
Occupation: OB/GYN: Graduated from Oregon Health Science University in 1976, Internship and Residency from 1976-1980, Private Practice in Obstetrics and Gynecology for 38 years and counting!
Favorite Pastimes: Raising my daughter Ivy with my wife Dyann and collecting older cars, and attending 356 Porsche events.
Highlights of My Life Since High School:
Got married for the first time in 1997 and raising my daughter Ivy who came to live with us in 2009 and adopting her in 2012, which has been one of the greatest highlights of my life!
---