Jamia Hansen-Murray
1968
Name in High School: Jamia Murray
Favorite High School Memories:
Troyan yearbook staff; Trojanes; dancing in "My Fair Lady"; ski bus! (and skiing); working as a class officer and on school dances; making several life-long friends.
Favorite Teachers:
Francis Murray, Mrs. Ashley, Jack Dalby, Mr. Taggert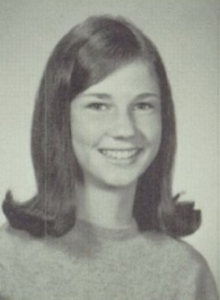 2018
Name: Jamia Hansen-Murray
Spouse/Partner: Chris Hansen-Murray
Children: Step-sons Scott Hansen (47) and Rusty Hansen (43)
Grandchildren: Alexander (22), Nicholas (20), and Sydney (almost 15)
Occupation: In 2006, I retired from a 32 year career with the U.S. Forest Service, where I was an environmental planner and analyst.
During all of my professional years, I kept dancing, performing with Seattle Opera, Radost Folk Ensemble (as a founding member), with a chamber Hungarian dance company, and in several community ballet ensembles (into my 40's!). I started studying historical dance in 1999, and have been teaching, performing, and choreographing 18th C. French and Spanish Baroque dance since 2005 (in the Pacific NW and in Europe). I have a small costume design business, but am slowly wrapping that up. I still love performing and teaching!
Favorite Pastimes: Dance, travel (Europe almost every year since 1995!), working out (running, lifting weights, Pilates), cooking (a little) and eating (a lot!), gardening, and attending musical concerts — mostly early music (all my Baroque dance colleagues) and brass band, my husband's passion.
Time with family — my brother and Chris's boys/grandkids — is precious.
Highlights of My Life Since High School: My Forest Service career; running two marathons; marrying my best friend & the guy at the next desk in 1993; becoming close to my crazy younger brother; holding granddaughter Sydney when she was 1 hour old; dancing my choreographies in Baroque operas at Aestas Musica in Croatia; discovering how much I love teaching; unleashing creativity after retirement (!); staying close to my dearest girl friends; making close friends in Europe through music/dance; and being a member of the early music community in Seattle.
---