Craig (Matt) Briggs
1968
Name in High School: Craig Briggs
Favorite High School Memories:
We planted 7 trees as the Senior gift. Five were knocked down in a year. But the maintenance staff added supports and two grew fast enough to outrun trouble.  There are still two 50+ year old Silver Maples with trunks 6 feet thick and 50 feet tall giving shade to students outside on the Wilson west side.
I remember being one of many helping out the budding artist Laura Ross with her fantasy design for the Junior Prom. The shop hall entrance had all blacklight on a fluorescent city of storefronts.  The entrance Cafeteria had a large fountain on the plant-covered stairwell. There was a false ceiling of fir bows. With different lighting, school was some other place— and our own friends were the band. 1967.
I remember reading and discussing books on big ideas in Mr Murray's class. It woke so many of us up to learning about the history of ideas and learning critical thinking for the first time—and what we thought about stuff, and how to express it.  And I remember in the spring of 1967 when we were studying Thoreau's "Walden", Mr. Murray lamented not knowing any "hippies" who could draw the parallels with the 60s.  I volunteered my wonderful brilliant beautiful oldest brother—maybe the first person with full length long hair in Oregon—to come and talk to our class. It was like an alien being had landed.  I think 200 people skipped classes to be inside and outside the room where his soft voice held forth connecting Thoreau to other thinkers and 60s awakenings.
We wore the same clothes looking to be cool and  be accepted into our chosen group—a precursor to our kids wanting and fearing failure to be liked on Facebook? We settled for clan—being split into groups—Athletes, Shop Gang, soches, intellectuals, nerds, grade-school buddies, with friendship moving to groups where you did stuff together like sports, plays, band/orchestra, hipsters, Statesmen and Yearbook staff, TroJane dancers, smokers out back, hot-rod car guys, early goths… Not many tweeners with curiosity to reach out across the groups—-I was crappy at it too–and just starting to feel my way to exploring a sense of wonder at the diversity and the surprise of people and the world and especially music, which has become a key part of who I am.
We were all so thin, and so many girls looked so fantastic—compulsory PE, sugar and empty carbs not in everything yet?
A really smart Andy Hurst as Hugh Grant with beautiful contorted English explaining creatively and sleepily why he did not have his assignment after waking from a nap in Ms Bartell's Math class.
Paul Lillig here and there as Richard Prior with zingers to the core of the illusions of what we thought was happening.
The Music teacher Jack Dalby had a policy that if you didn't march in the Rose Parade in full uniform, you would get an F in music. I thought it was dorky—I told him to fuck off, and stopped my cornet playing which I loved.  I found my way back to the love of jazz music at U of O Music school at the age of 21 and jazz piano has become my church ever since.
My best friend John Lundblade and I playing tennis under the lights alone in the silence and cool of late nights at the Med School and Washington Park.
Those super salty and bland mashed potatoes and gravy in the Cafeteria– and we ate them!  I didn't know what good food could taste like…
And gymnastics with Mr Ogan—everyone building these new bodies on this odd equipment in a room with a lot of mirrors and guys checking themselves out. Did Dave Basinski finally get that super-difficult front flip dismount on the High Bar?
I wish I had taken all the shop classes. I learned woodworking and fixing up houses by trial and error, with lots of early errors. I missed the opportunity. I just didn't get how great it was to have all these classes in how to build things from guys who knew their stuff.
Favorite Teachers:
They all had their style and strengths. For longest lasting effects on me, Mr. Witty and Mr. Murray.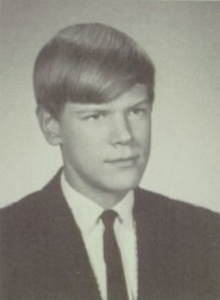 2018
Name: Matt Briggs
Children: yep
Grandchildren: yep
Occupation:
After high school, 12 years of college. Would have kept going undergrad, but U of O sent me a diploma in "General Arts and Letters" so I would have to pay Graduate Tuition…
Painted houses thru college, had a woodworking shop for 4 years, fixed up old houses and farms on rivers for 20 years.
Chinese Medical School 5 years—two degrees, but met a girl who knew where to pick one wild mushroom—chanterelles. We got hooked up and found where morels, matsutake, truffles, black trumpets etc grow while doing Medical Internships in SF and Southern Oregon. A few of us figured out where the mushrooms grew, and when. It turned into a year-round business having picker teams move north in the spring with the crop as far north as the Yukon and Alaska and south in the fall as far south as Santa Barbara with another crop, like gypsies.
Favorite Pastimes: Playing Jazz Piano every day
Used to write a lot of poetry when younger and hungry for "the truth".
Here is one written at 30 after I returned from 8 months traveling around the world west to east on one of those old cheap tickets:
Wild Blue Thirst
I've got a wild blue thirst,
I want it all at once:
The fastest and the slowest,
The highest and the lowest;
Humor and compassion,
Complacence and reaction;
I want a shy siren,
A coy whore of a bookworm;
I want a Monet painting that moves,
A surprising cliché;
I want talk and silence,
Youth and wisdom,
Excitement and peace;
I want to forget and remember,
Conquer and surrender;
I want to fast and eat,
Stay up and sleep;
I want everything
To be temporary and lasting;
It's time for lovelust and crying
Flying fast and sharp
Feeling flames and pains
Riding into the sunset
Knowing that it's jive
And smiling with watered eyes.
Highlights of My Life Since High School:
Family and owning a busy daily business took and takes most of my time up to now.
Travel mostly while young and poor in 74 and 81 and later with money to 50 countries.  I would say Nepal, East Africa, Indonesia, Italy, Tahiti tops for me. Post globalization/sameness, and huge population and pollution increases, inner travel appeals more these days. After traveling around the world for 8 months in 1981, I was such a junkie for surprise that when I got back, then kayaked the Rogue and then hitch-hiked to the Pendleton Round Up with a tight end for U of Washington. It was like "Dumb and Dumber"—we got picked up by a Winnebago full of models going to the Round Up. They dropped us off and ended up getting flown up by helicopter into the Wallowas for picnics by Dallas Oil Men while we slept in the park under the bushes.
Started a long love affair with jazz piano in 1971 and still smitten and learning. In the last 3 years working at being a good jazz singer. Feels good getting better at Something at 67 years old …
Made a couple movies—one big, one small—both documentaries.
"Deep Green" –Solutions to Stop Global Warming Now" — see DeepGreenMovie.com
One on my mom Virginia and what an effect she had on all of my extended family. Unreleased.
Lots of baseball. I last played competitive baseball at 60 in the Portland over 50 Softball League. Good Place-hitter. Outfield. I still remember the throw that got a guy out at Homeplate from deep center field on the fly that took out the first part of my rotator cuff.  You know it is time to hang it up when nobody can run to first anymore…
Gardens every year since I was 16. Dancing, exercise, kids coaching, environmental politics to Keep the Life Support System working for us and not against us.
Love and seek out great movies, great books, great music, dance.
On Making "Deep Green" Documentary 2008-12+:
Noticed the forests were changing—drying out, getting eaten by bugs, burning more and more. Saw "Inconvenient Truth" and was amazed it was all scare, and no solutions.  Decided to do a weekend shoot on what one person could do. One thing led to another. I hired a larger and larger team including animation from Bent Image Lab. We filmed in nine countries including China for a year with a total crew of 300 and spending $2.5 million.  We went to 70+ film festivals and won awards in 20. One of our animations, "The Krill is Gone" qualified for Best Animated Short 2011 Academy Awards. We pushed for eight years to show people all the best solutions in the world to stop man-made global warming and keep the Life Support System healthy.  I have given maybe 2000 tours of my near Net Zero Carbon retrofit house.  If you have interest, you can read about and see the movie at DeepGreenMovie.com —hit the "Greenagraphics" video and scroll to Final Cut 80 minutes for free.
We could deploy enough solutions to stop this by 2035.
Up to us.
---