Inger Bundgaard Gregersen
1968
Name in High School: Inger Bundgaard
Favorite High School Memories: asking hats for the musical, hanging out at study hall, arts and crafts class
Favorite Teachers: Mr. Murray, Mrs. Borden, Mr. Reid? who I had in Civics and who together with his wife invited Carolyn and me to Eastern Oregon for a weekend to visit a big farm. Mr. Tucker, my French teacher, and my Spanish teacher, whose name I don't remember, who took time to give me extra lessons.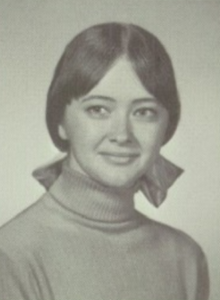 2018
Name: Inger Gregersen
Spouse/Partner: Per (who was my boyfriend already before I left for my year as an AFS student)
Children: Mette (1977) and Espen (1979)
Grandchildren: Silja (9), Viktor (7), Anna Nova (6) and Ida (4)
Occupation: Translatør and Interpreter. Translating IPO documentation, financial statements and legal documents and interpreting in court, mainly in patent litigation. I had my own company together with four other translators. I retired at the end of 2016.
Favorite Pastimes: Spending time with family and friends, travelling, spending time at our holiday home, an old thatched roof house on one of the islands in Denmark. Weaving, knitting and sewing.
Highlights of My Life Since High School: After my year in Portland I went back to finish Danish high school and then moved to Copenhagen with Per to study languages at the Copenhagen business school. Then years full of activities raising a family and working. We have travelled a lot over the years, including many times to Seattle to visit Carolyn's family. I also did a summer quarter at the University of Washington, which included having my family with me and even more visits with the Dales. Lots of trips as a family, including a trip to Malaysia and one to Australia when Mette and Espen were in their early twenties. Now we especially enjoy time with the grandkids. They live very close to us in downtown Copenhagen, giving us lots of opportunities to pick them up from daycare and school, going to Tivoli Gardens with them and many other fun things.
---