Jan Rabin Harrington
1968
Name in High School: Jan Rabin
Favorite High School Memories:
None whatsoever; it's all a blur.
Favorite Teachers:
Francis Murray. He taught me to think and to write.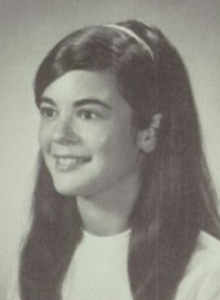 2018
Name: Jan Harrington
Children: Sean, age 18. Graduated from Wilson this year!
Grandchildren: Oh, man…I hope not. (See "children" section.)
Occupation: Retired college professor. Taught Computer Science/Information Technology/Information Systems for 32+ years. Most of that time was spent at Marist College in Poughkeepsie, NY.
Favorite Pastimes: Coaching one of the Wilson robotics teams. Even though my son has graduated (leaving his team behind), I plan to keep coaching at least for another year or two. I'm an AFOL (Adult Fan of Lego) and am always building something. I also have done a lot of writing on technology topics.
Highlights of My Life Since High School:
Moved around quite a bit. Have lived in Wichita Falls, TX;, Seattle, WA; Tadmarton (Oxfordshire, England); Kotzebue, AK; Waltham, MA;  Philadelphia, PA;, and Hyde Park, NY.  All that moving happened between 1968 and 1989. My son and I returned to Portland in 2013.
---