Mindy Reed
1968
Name in High School: Mindy Reed
Favorite High School Memories:
Ugh ~ very few really I struggled academically ~ I found out later why
However, outside of school, there was a person who shall remain nameless who lived in the subdivision across from the school and I can remember going over at lunch and getting stoned on occasion ~ typing class after was WILD
Favorite Teachers:
Art and typing teachers ~ only ones who I never got in trouble with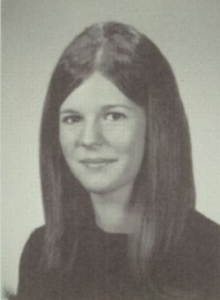 2018
Name: Mindy Reed, but…
I don't go by my real name on social media for security reasons, I go by Kate Reed and my FB page is closed to the public so you would have to ask to friend me. I also have 2 FB pages for my design and photography. I'm also on Twitter as MK Reed
Spouse/Partner: 2 ex's ~ been single longer than I was ever married
Children: All my children have/had 4 legs
Occupation: Many!
From '72-'92 I was an LPN ~ burnt out on nursing and dusted off my typing skills and went to work in IT as an admin then tech writer/web design then the IT market crumbled and I went to work as a Real Estate Title examiner and we all know what happened in '08 so that went away. I then worked as a Patient Sitter/Tech at a regional hospital and the assholes laid me off 3 weeks before I turned 65 anywho I now work part time as a Medical Records Technician for a Mental Health Company
Favorite Pastimes: Currently; walking/hiking, digital photography and art work. In the past I raced sailboats for 15 years, then renewed my love of riding and owned several horses that I trail rode and trained and competed in dressage
Highlights of My Life Since High School:
Where do I begin…I went to college twice in Bend LMAO First time ~ disaster on many levels ~ I got a new pair of boots, poles and Skis along with a season's pass ~ so you can guess what I did. The next year I worked at Mt. Bachelor and was basically a ski bum for a season. When that job was over a friend told me about being a nurses aide so I did that and realized I wanted to be a nurse ~ back to school I went~worried could I do it. We were required to take a reading course to up our speed and comprehension so the first day of class we had to take a series of tests and the instructor asked me to stay after class (I thought I'm fucked). She asked me did I know I was mildly dyslexic? I was like WTF is that. She gave me the tools to overcome it ~ that teacher changed my life! I graduated and passed the boards first time. I became a life long lover of books and I'm never without something to read. I still can't spell worth shite and math is still a struggle but oh well
In '78-'79 I took a year off lived out of a back pack and went around the world! Tons of stories from this adventure.
I also raced Sailboats for 15 years was the SE woman's Laser Champion, I had several different boats but my fave was my beloved J22. I got good enough that people would fly me down to Florida to skipper their boats off shore.
I'm also obsessed with the Outlander series by Diana Gabaldon and LUV the show too ~ any other Outlander fans out there??? I do digital artwork from screen caps.
---