Jan Winkenwerder Lehmer
1968
Name in High School: Jan Winkenwerder
Favorite High School Memories: Almost all of my fondest memories are of being in senior choir, senior ensemble, orchestra and the best times were the musicals.
We had the greatest fun in rehearsals, back stage, and of course our "award winning" sold out performances.
Several friends were made and kept in my heart from those wonderful times.
Favorite Teachers: Merle Lotz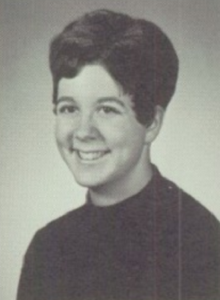 2018
Name: Jan Winkenwerder-Lehmer
Spouse/Partner: Michael Giesemann
Children: Daughter Elizabeth Ardis 39 years old. Educator at Capital City Charter School. Married lives in the DC area. Husband works for the State Dept. Moving back to Oregon next year to their new home at the beach.
Son Adam Joseph 32 years old. Single but always looking, for what I'm not sure. Security at Nightclubs is his current venture
Grandchildren: No grandchildren, but lots of little ones always around
Occupation: Retired
Worked as a designer for Bassett,La-Z-Boy
Wholesale Buyer for Naito Corp. Import Plaza stores.
Favorite Pastimes: I still enjoy all types of music, anything on the water and being with everyone I love whenever I can, while I still can.
Highlights of My Life Since High School: My two children.
My marriage of 35 years
My first marriage to my late husband for 9 years
Living in Marin County for several years and working for Bill Graham, acquiring a really wonderful group of friends, protesting and demonstrating in hopes of attaining certain rights and goals to help our country.
---