Fritz Weber
1968
Name in High School: Fritz Weber
Favorite High School Memories:
Meeting "ma chérie d'amour," Julie Grimberg, class of '70 / Playing piano at the election assembly / Using our master key to "requisition" chairs from the teacher's lounge for the CCTV studio. / And the time they locked us out of the transmitter for disciplinary reasons, but Brant Miller got us on the air anyway with some quick signal rerouting. (Brant has been an award winning meteorologist for NBC5-TV Chicago for the last 27 years.)
Favorite Teachers:
Eugene Neubauer (CCTV)
Eugene Severson (social studies)
Emory Reitz (drafting)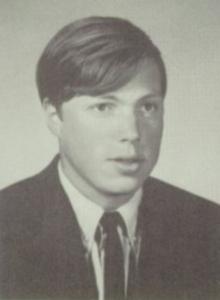 2018
Spouse/Partner: Julie (50 years together, 47 married)
Children: Danae (37 years old) graduate of Wilson High '99, Lewis & Clark College '03 – Danae is happily married and works with her mom, (Julie) at the Oregon State Bar, PLF.
Grandchildren: Drea  (3 years old)
Occupation: Musician
Favorite Pastimes: Music, Boating, German Shepherd Dogs – the Weber family has had 27 since 1965.

Highlights of My Life Since High School:
After graduating from Lewis & Clark College with a degree in Communications, I studied with private jazz piano teachers. Julie and I have played music professionally since 1973. We've played in rock, blues and funk bands, small and large jazz groups, classical orchestras, and sacred choirs/orchestras. Julie plays flutes and percussion (classical & latin.) I play all types of keyboard and percussion, including timpani. We both sing.  I've recorded with other people and put out CDs with my own compositions. (www.luminos.net)  I've been a music director, conductor, recording engineer, piano salesman, yacht broker, accountant, and mortgage broker.
We are grateful to have been musicians, able to soothe souls and uplift spirits. Our class of '68 included other musicians including: Chris Parker, jazz professor, pianist and recording artist in New York // Lloyd Jones, nationally known blues guitarist and recording artist // and Brad Mersereau jazz pianist and recording artist. Nan (Nowels) Stenholm lives in Stockholm, Sweden. She has a wonderful classical album available called Solveig's Song, with Nan on piano with a vocalist. Hopefully there are more!
May all of our Wilson High classmates be blessed with many more trips around the sun!
---