Janet Twitchell Frazier
1968
Name in High School: Janet Twitchell
Favorite High School Memories:
Trojanes, yearbook staff 1967
Favorite Teachers:
Mr. Rhinerson,  Vice Principal,  who let Diane Lewis  and I take off in the middle of the day. He would have the janitor take the chain down in the parking lot whenever we wanted to leave.  He was wonderful to both of us.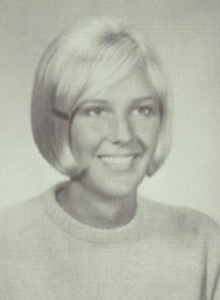 2018
Name: Janet Frazier
Spouse/Partner: Steve Frazier
Children: Shane 38
Shannon 34
Grandchildren: Wyatt 5
Matthew 3
Occupation: Retired (2013) judicial clerk at the Multnomah County Courthouse
Currently dividing our time between Portland and our 80 acre farm in Eastern Oregon where we raise purebred kiko goats,chickens and have a weekend rental. I call this stage in life "tirement."
Favorite Pastimes: Being with my husband of 47 years, Steve.  He traveled so much with his job we never had a week together other than once a year on vacation.
Spending time with our grandsons.
Refinishing furniture.
Reading
4 wheeler and ranger riding.
Fishing on the John Day and parking our rigs and ice chests on a gravel bar in the river..
Highlights of My Life Since High School:
Traveling with my husband on business trips.
100 acre  duck club on Sauvies island, Flights End.
Cabin on swift reservoir at the base of mt  St. Helens for 25 years.
35 years of rental houses that allowed us to buy the Double F Bar Farm.
Taking care of my family.
---