Jim Tarbell
1968
Name in High School: Jim Tarbell
Favorite High School Memories: 
Three seminal experiences in high school helped move me down life's path. The first occurred in my freshman English/Social Studies class with Bousquet and Friday when I undertook writing a report on the African struggle for independence from the oppressive Western Commercial Empire that had enslaved them and stolen all of their resources. It launched me on a lifetime of research and writing on this general topic and much to my surprise garnered 21 A+s. I have realized that my years as a cheerleader in my sophomore and senior years energized a role I play cheerleading the movement to enhance social justice in the world. Finally, my role on the yearbook staff as a senior introduced me to the world of publishing and printing that I have worked in for the past 40 years.
Favorite Teachers: 
Ms. Friday, Bruce Taggart, Susan Coffman, Robert Larsen, Tom Witty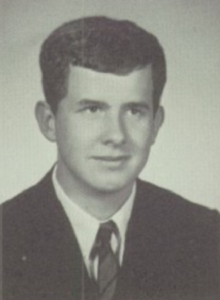 2018
Spouse/Partner: Judy (40 years)
Children: Beca
Shamli
Crescent
Grandchildren: Olive (8)
Saoirse (6)
Orla (1)
Occupation:  I worked: as a political gofer for Congressman Wendell Wyatt; an economist in the Peace Corps; a carpenter; a bilingual teacher; a printer and publisher; a writer and editor; a radio host and educator on grassroots solutions and corporate power.
Favorite Pastimes: Writing, editing, creating, politics, family, friends, researching the role of money in our lives, being Mr. Fixit, and traveling.
Highlights of My Life Since High School: 
I earned a degree in economics from the American University in Washington DC where I worked for Congressman Wyatt for four years. I received a conscientious objector status for the military and spent 2+ years in the Peace Corps in Latin America. I moved to Northern California where I met my lovely wife and have lived ever since.  We ran a printing and publishing business for twenty years. I co-founded and co-hosted the radio program Corporations and Democracy. I edit the publication Justice Rising: Grassroots Solutions to Corporate Power for the Alliance for Democracy and have been teaching courses on Grassroots Solutions and Corporate Power, and Creating an Economy for the Common Good under the Grassroots Institute at www.grassroots-institute.org. I am also the main staff person for a small foundation and have written two books.
---