Diane Shimshak
1968
Name in High School: Diane Shimshak
Favorite High School Memories:
Trojanes dance team.
Serving as Activities Chairman, senior year!
Favorite Teachers:
Mrs. Chisholm, Mr. Reed, Ms. Miller, Señor Taggart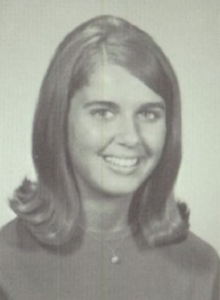 2018
Name: Diane Shimshak
Spouse/Partner: Mitchell Klug
Occupation: Wine hospitality at Lange Winery
Favorite Pastimes: Riding and competing hunter-jumper horses, gardening, hiking, travel, wine.
Highlights of My Life Since High School:
College, living in Southern then Northern California for 30 years, working in the wine business most of that time til the present, Paris, Burgundy, Florence, our dogs and the horses, riding, enjoying family.
---