Joan Karlin
1968
Name in High School: Joan Karlin
Favorite High School Memories: I came to Wilson as a junior, when we moved from Eastmoreland, so my memories pick up there.  Commiserating with others who arrived that year, especially Judy Weinsoft, of blessed memory. Playing violin in the orchestra (mediocre skills at best, but fun playing for musicals).  Also Prom Night (or was it graduation night?) senior year: several of us (including Esther Moscow, if I recall) went to the Eugene McCarthy rally and then drove to Longview (!) for pizza (!!).
Favorite Teachers: It's a blur, but Mrs. Ashley comes to mind.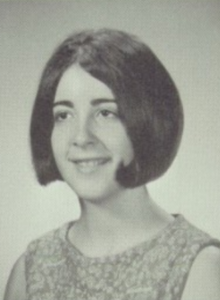 2018
Spouse/Partner: Paul Resnick; we met at college in Claremont, married now 46+ years
Children: Daughter (42), son (34)
Grandchildren: Two grandsons, 15 and 9.
Occupation: Retired since 2006, involved in a variety of volunteer activities, classes, travel.
Favorite Pastimes: Travel.
Highlights of My Life Since High School: Went to Pitzer College, worked as a secretary/research assistant in investment area, then went to Stanford Graduate School of Business.  Worked in finance at Saga Corporation for ten years (chances are you ate Saga food at college, at work, or in a hospital). After Saga was acquired by Marriott Corporation, worked at Stanford in finance and administration for almost 20 years.  Especially as friends and family encounter the challenges of life and aging, we are very grateful that we have the time to stay involved and to enjoy.
---