Karl Rudnick
1968
Name in High School: Karl Rudnick
Favorite High School Memories: Jean McElligott, calculus with Fred Ridder and Rocco Lardiere, track practice with Fred Blank, Lori Ross, Catherine Dalziel, planning/executing/attending 1967 Prom, cruising the Oregon coast with Bill (Walker) Hollenbeck, Erik Thune and Kevin Boyd, barfing at Dick Campbell's, working at Albertsons with Erik and Vicki Tallman, getting caught in Tom Cavanaugh's neighbor's driveway while sneaking out for a midnight Wilson skinny dip …
As this reunion gets closer and so many people are emailing in, the memories keep flooding back. Way too many to even attempt to enumerate in the short fashion above. I'm thankful that Wilson was available to me for 4 years.
Favorite Teachers: Carrie Miller, Curtis Guthrie, Norm Sipple, Francis Murray, Joe Brugato, Virginia Bartell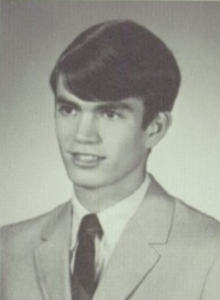 2018
Spouse/Partner: Jill Cooper (1974)
Children: Liz (36), Tommy (33)
Grandchildren: Declan (4)
Occupation: Retired mathematician, active bicycle advocate and teacher
Favorite Pastimes: Bicycling, computers / software, reading, piano
Highlights of My Life Since High School: Jill, Harvey Mudd, Caltech, teaching math at Texas A&M, Aerospace Corp., Liz and Tommy, Tootsie, Ben & Jerry, Betsy, coaching soccer, creating and then providing software for advanced signal processing algorithms at SAIC (retired 2013), North County Cycle Club, 2004 Tour de France, 2008 US Open at Torrey Pines, 2014 Giro d'Italia and Piedmonte bike tour, 2016 Grand Alps Traverse bike tour, grandson Declan, Simsbury CT, Minneapolis, 50th Wilson reunion!
---