Laura Ross Paul
1968
Name in High School: Laura (Lori) Ross
Favorite High School Memories:
The practice for our graduation…..not that I was anxious to leave, but because they announced that there were still some college scholarships available. I had worked all through High School (thank you Albertson's Snack Bar) to save up but those funds were quickly depleted supporting my youngest sister and myself Senior year. Right before school started in 1968 my family had a tragic car accident leading to multiple deaths and my becoming a caretaker. The stability my friends, teachers and counselor gave me was huge. By bundling scholarships Wilson High School basically sent me off to Oregon State. I am forever appreciative of that.
Favorite Teachers:
All the art teachers, but especially Mrs. Borden.
Also Mr. Stanton who was the yearbook advisor. He let me do all kinds of things and supported my pushing the envelope. When the yearbook got a big national award, I got a call from Stanford University who had taken notice of the role my artwork had played.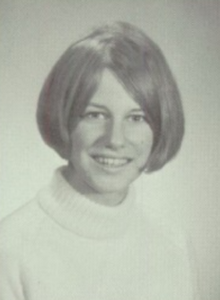 2018
Name: Laura Ross-Paul and also Lori Paul
Spouse/Partner: Alex Paul
Children: Sean, Louie and Emma
Sean's an actor in LA (will be coming to Oregon soon to shoot "Out of Nowhere").
Louie is a coder, just finishing writing an App.
Emma is also a computer engineer and works for Opal here in Portland.
Grandchildren: I'm sure they're coming soon
Occupation: I'm a retired Associate Professor with most of my career teaching at Portland State, but also Lewis and Clark, PNCA and OCAC. I've been a gallery represented artist since before completing my Masters, with over 50 one person shows under my belt. (Whew!) Still going strong so check it out at LauraRoss-Paul.com
Favorite Pastimes: 
I love my garden because it's like painting with plants. We have a cedar log cabin in Manzanita where we spend the summer and I paint in a great yurt studio in the woods.Still skiing and boogie boarding. Also a committed yogini.
Love walking (and talking) with girlfriends and dogs.
Have loved being on the Reunion committee.
Highlights of My Life Since High School: 
I've had a great life in the art world which often brings me to cities all over the country, especially on the west coast.
I was the first woman to have my breast cancer treated using cryoablation (freezing) in 2003, allowing me to keep my breast and getting an immunity. That led to a book, "They're Mine and I'm Keeping Them", co-authored with my husband Alex and my Dr. Peter Littrup. That led to 4 trips to China, twice as guests of the Chinese, where I gave speeches at an International Cancer Forum. On the last trip in 2016 I was accompanied by former Wilsonite and good buddy Diana Van Winkle. You can check our site at KeepingThem.com. An internet article about my speech went viral in 2016 leading to almost daily connections through our facebook site. My goal is to make this amazing treatment available to all women.
---