Linda Fariss (Ashleen O'Gaea)
1968
Name in High School: Linda Fariss
Favorite High School Memories:
English class; photography class; and Peterson's after school.
Favorite Teachers:
Anna Friday; Francis Murray.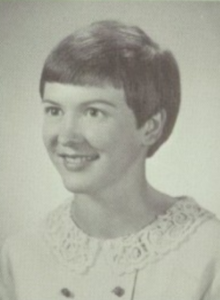 2018
Name: Ashleen O'Gaea (pronounced oh-jee-uh)
Spouse/Partner: Jim Law
Children: Ryan
Occupation:  Writer and Wiccan priestess
Favorite Pastimes: camping, and hosting a tent for our Scottish clan at Arizona Highland Games; entertaining; writing.
Highlights of My Life Since High School:
Well, marriage and childbirth; publishing my first book; various Initiations and Sabbat celebrations; lecturing at UA and in England; presenting at writing conferences; going to Scotland; my first Westie's AKC championship (and getting his sister, too) ….
---