Kathy Endsley Janda
1968
Name in High School: Kathy Endsley
Favorite High School Memories:
I had such a blast in HS meeting so many others and hanging out with my besties from grade school. I really enjoyed Home Ec – do they even teach that anymore?- joining the Pep club and screaming my lungs out at the Wilson football 
 games! The teachers were great – can't really remember their names! I also learned so much working in the student store too! Ahh those were the days !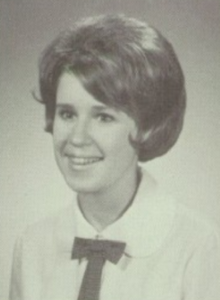 2018
Name: Kathy Janda
Spouse/Partner: Mike Janda
Children: Melissa – 42 yrs lives in Wilsonville
Michele -38 yrs lives in Reno  Nevada
Melanie – 36 yrs lives in Reno Nevada
Grandchildren: Melissa has two girls Lilly 8  Genevieve 5
Michele has 3 boys. Paul 18 Caleb 15 Hunter 9
Melanie has 3 kids Savannah 7 Twins Gabriel n Liam 3
Occupation: Retired RN after 46 years in a very rewarding career – Associate degree from Shoreline Community College then BS in Nursing from Seattle Pacific University
I worked 9 years at Harborview Hospital then took some time off for the kiddos then worked at Overlake Medical Center in Bellevue Wa until my retirement in February 2017.
Favorite Pastimes: Hiking and camping
Cross stitch
Square Dancing
Highlights of My Life Since High School: 
Raising my daughters to be happy responsible adults – Melissa is an Interior Designer from OSU Both Michele and Melanie are RNs – so I guess my scary nurse stories at the dinner table didn't deter them from achieving their goals too
---