Rick Krahn
1968
Name in High School: Rick Krahn
Favorite High School Memories: Hanging out with my friends. Dances – rocking out to  60's R&R. Playing around with cars & motorcycles. Ski Club trips – especially the loosely chaperoned weekend trips to Bend. Working at Rico's Pizza with the accompanying shenanigans. Having Patsy Kullberg decide for some mysterious reason that she wanted me as her boyfriend. Getting up the nerve to do "humorous interpretation" with the Forensians and having it go well. Driving to Indian Beach with Dave Luman and Doug Jacobson in my '58 VW Bug with a rented surfboard on top and trying to learn how to surf without wetsuits. Going to the Pypo Club in Seaside afterwards and trying to be as cool as 16 year old suburban white guys can be – pegged pants, Converse & Madras shirts.
Favorite Teachers: I guess it's no surprise that academics are not what comes to mind. I recall Joe Brugato making math make sense. Francis Murray inspiring me in English. Gordon Makinster being supportive in P.E. and trying to avoid Mr. Rinearson when I was growing my sideburns long.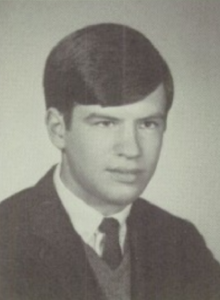 2018
Spouse/Partner: Dorothy
Children: One son and three step children.
Grandchildren: None yet.
Occupation: Recently retired building contractor. Custom homebuilding and remodeling and some land development
Favorite Pastimes: Hiking, cycling, kayaking and sailing. Singing & playing guitar. Woodworking. Learning Spanish. Social justice activism and volunteer work. Being in community with good people trying to make the world a better place.
Highlights of My Life Since High School: Living in different places in the West:  Bend, Cannon Beach, Hawaii, Alaska and Colorado. Exploring the natural world and trying different adventure sports.
Completing challenging building projects for appreciative clients. Being a husband, father and friend to the best of my ability.
---