Rocco Lardiere
1968
Name in High School: Rocco Lardiere
Favorite High School Memories: Too many to list.  Above all, the warmth of classmates AND the heated classrooms – staring out at the rain outside.  Perhaps I spent too much time staring out the windows, though.
Favorite Teachers: Mr. Sipple (gruff but a great guy), Mr. Murray (soft voice – we had to shut up or we couldn't hear him), and Mrs Ashley (very patient).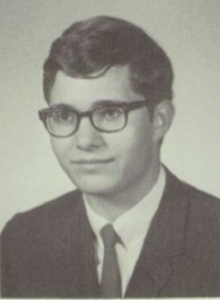 2018
Spouse/Partner: Cynthia Nast
Children: Craig and David.  Craig lives in SE Portland now, BTW.
Grandchildren: Finnegan Lardiere (2 yrs).
Occupation: Retired (in Feb 2018) after 37 years of launching rockets and satellites as an Avionics Engineer.
Favorite Pastimes: Classical piano, writing novels, travelling
Highlights of My Life Since High School: LA Philharmonic seats at Disney Hall, family stuff both in Portland and LA, travelling here and there (St Petersburg (Russia) and Beijing are personal highlights), watching rocket launches from up close, soccer with the boys years ago, and (coming soon) soccer with grandson Finn.
Looking forward to reconnecting with Portland Wilsonites, now that we have a vacation house in Happy Valley.
---