Steve MacPherson
1968
Name in High School: Steve MacPherson
Favorite High School Memories:
Math Club, Chess Club and Baseball
Favorite Teachers:
Curtis Guthrie, Tom Witty, Virginia Bartell, Francis Murray, Bruce Taggert, Robert McFarlane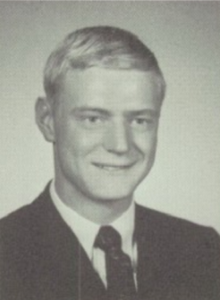 2018
Spouse/Partner: YoungSuk "Eiko" MacPherson
Children: Bryan (30) and Cindy (28)
Grandchildren: None
Occupation: After earning my commission at the University of Washington I spent 22 years in the U.S. Navy traveling the world.  I then worked in Defense Industry for 23 years retiring from L3 Technology Inc. in 2017.  Since then I have become a Realtor in Virginia principly managing and leasing retail space that we own an interest.
Favorite Pastimes: Traveling the world and Cooking
Highlights of My Life Since High School:
Living in Japan and meeting my wife and spending time with her family in Korea.
---